Harrow School Angling Club
Update @13th July 2020

• With immediate effect it will no longer be necessary to book in for fishing. This also applies to Sunday matches. There is no restriction on numbers fishing (as long as there are swims available)
• Garlands Lane gate will now be opened at 7am each morning. So, you may access from 7am. You must have let the school grounds by 9pm (otherwise you may be locked in).
• Parking enforcement will be in effect from 27th July. All HSAC members will be required to obtain a free annual parking permit to display in their vehicle. You must pick up your parking permit from the Sports club reception on your first visit to the lake on or after 27th July. You must show your HSAC membership ID at reception and a permit will be issued to you. You will only have to do this once a year as it is an annual permit. Car Parking will be in the Garlands Lane car park only. You must not drive up to the lake to drop off tackle. The ONLY exception to this is for our disabled members who may park in the disabled bays at the lake. Please ensure you display your blue badge, HSAC disabled member parking permit and new Harrow School parking permit (after 27th July)
• Toilet facilities are now available in the clubhouse next to the 1st Tee. The door entry code is 2+5 – 3 – 1. Hand sanitisers will be positioned close to the entrance of the toilets. Please make use of this facility and ensure you leave the toilet in a state of cleanliness.
• Change to Sunday match procedures 1) Draw will now be 8am with fishing 9am to 3pm. 2) Matches will be peg downs (not walk offs). Sunday match dates are: 26th July, 9th & 23rd August, 6th & 20th September. Pleasure fishing on these dates will only be allowed after 4pm.
• Current government guidelines regarding social distancing and COVID-19 related guidance must be followed at all times. As it may be necessary to issue amended guidance at short notice, members are strongly advised to check the club website before setting off in case there are important updates.

Issued by HSAC Committee on 13th July 2020

CAR PARKING FOR DISABLED MEMBERS WITH BLUE BADGES
UPDATE @ 18th JUNE 2020

WITH IMMEDIATE EFFECT OUR DISABLED MEMBERS WHO HOLD BLUE BADGES ARE ALLOWED TO PARK IN THE MARKED DISABLED PARKING BAYS AT THE LAKE. YOU MUST DISPLAY YOUR BLUE BADGE AND HSAC DISABLED PARKING PERMIT IN YOUR VEHICLE.
FAILURE TO DO SO MAY MEAN YOU ARE CLAMPED !

THIS ONLY APPLIES TO OUR DISABLED MEMBERS WITH BLUE BADGES. ALL OTHER MEMBERS MUST CONTINUE TO PARK IN THE GARLANDS LANE CAR PARK.

IF YOU ARE A BLUE BADGE HOLDER AND DO NOT HAVE AN HSAC DISABLED PARKING PERMIT PLEASE VISIT THE FISHERMAN'S CABIN WHERE ONE CAN BE PRINTED FOR YOU (OR CONTACT SECRETARY, DAVE BARTLETT).

Harrow School Angling Club - Newsletter - May 2020
We hope all our members and their families are safe and well.
AGM
As you know the AGM was cancelled due to the coronavirus epidemic. This will not be rearranged due to the government restrictions on social gatherings.
Lake Reopening
The lake will reopen for fishing on Saturday 23rd May, subject to the restrictions and procedures listed below.
These will be reviewed on a regular basis (initially after two weeks). After which, if all goes well, we hope to relax them further. They have been drawn up using guidelines and restrictions issued by Government, Environment Agency, Angling Trust and agreed with Harrow School.
Important notes for members
• It is up to each individual member to decide whether to visit the lake after considering their own circumstances with regard to risk from Covid-19
• Do not visit the lake if you or any member of you household are displaying symptoms of Covid-19
• Before fishing it is the individual member's responsibility to thoroughly read the HSAC rule book and these guidelines.
• Initially fishing will be restricted to the hours of 10am to 3pm.
• Initially no more than 15 members may fish at any one time
• There will be a pre booking system so members cannot just turn up and fish without pre booking.
Booking Procedure
• Members who wish to fish must pre book before 4.30 pm on the day before they intend to fish. Note for Sunday & Monday fishing pre booking must be done before 4.30 pm on the preceding Friday.
• Members will be allowed to book a fishing day (10am-3pm) up to five days in advance.
• Members must contact Club Secretary, David Bartlett, either by phone (07721619342) or email (davidbart276@aol.com) and advise on the day/date they wish to fish. (see note above regarding times)
• Member must provide their membership number and emergency contact details.
• Club Secretary will then by email provide Mike March, Sports Facilities Manager at Harrow School with a list of those members who have booked fishing for the next day (on Fridays for Sunday & Monday fishing). This list will be passed to Harrow School security
• Harrow School Security will check the member's details against the pre booked list and verify the member's identity before allowing access to school grounds through the gate on Garlands Lane. (Members must have their membership ID visible for checking).
• No more bookings will be taken for any day on which 15 members are already booked in.
• Bookings will be taken on a first come first served basis
• By booking a fishing day a member must acknowledge that fishing will be at their own risk
MEMBERS ARE NOT ABLE TO TURN UP AND FISH WITHOUT A BOOKING
Access and car parking
• Access is via Garlands Lane. The gate at the end of Garlands Lane will be closed and locked.
• Harrow School Security will open the gate at 10.00 am and allow access only to those members who have pre booked their fishing day. Note, there may be a queue of cars down Garlands Lane waiting for the gate to be opened. Please do not leave your vehicle.
• If a member arrives after 10 am they will not be able to gain access to the lake.
• Car Parking will be in the Garlands Lane car park. Please remember to maintain social distancing in the car park and when making your way to the lake. If possible, please park in alternate bays. You cannot drive up to the lake to drop off tackle
• There will be no access to the toilet facilities in the clubhouse.
• Please report any non-club members seen on the lake and any other security issues to Security on Mob: 07766 688597
Fishing Restrictions and guidance
• You must maintain a distance of 15 metres from other anglers whilst fishing. This means you cannot fish in the next swim to another member.
• Do not leave your tackle unattended or across the footpath which may cause an obstruction
• Please remember the footpath is also used by school staff and local residents. So please, keep to social distancing of at least two metres whilst on school premises.
• No sharing of fishing tackle or other items
• Use hand sanitiser before and after touching locks, gates etc handled by other persons
• Disposable gloves are recommended
• You must bring your own food and drink
• No Match or Competition fishing – Government restrictions prohibit organised gatherings of any kind.
• You must stop fishing by 3pm and be ready to vacate school premises by 3.30pm. Garlands Lane gate will be opened by school security at 3.30pm so members must be packed up and ready to leave by this time.
• Pay careful attention to club notices, this situation and guidance may change at short notice so please check the club website regularly for up to date information (www.hsac.co.uk). If you have provided a contact email address, we will be sending you updates by email.
• Remember, you must have a current Environment Agency rod licence.
• If you are unsure or require clarification on any of these guidelines, please contact a committee member (details below).
Please remember our priority is to create and maintain a safe environment for members to fish. These guidelines are for members to follow to ensure we all stay safe and well.
Failure to follow these guidelines puts us all at risk

Work Parties & Refunds
Due to restricted access to the lake it has not been possible to hold organised work parties. We aim to arrange some later in the season when attending members who paid the work party levy, will be entitled to receive a refund on their subscription.
Competition and Match Fishing
Until Government guidelines change there will be no Sunday or Evening matches. Therefore, until further notice Sundays are available for pleasure fishing (subject to the above guidance and procedures)
New Membership Cards
The new HSAC Club Membership ID card (orange) and your membership card for the 20/21 season (blue) have now been sent out. You must have both cards with you at all times whilst fishing the lake, We have introduced this so that you will not have to send in a photo each time you renew your membership, which will speed up the renewal process and reduce administration.
Club officers & contact details
Chairman - Vacant,
Vice Chairman – Trevor McGahey (07444047925),
Secretary – Dave Bartlett (07721619342) (Email: davidbart276@aol.com)
Treasurer – Bryn Bishop (07973848444),
Sunday Match Organiser – Adam Fowler (07967797261),
Evening Match Organiser – Bob Gilligan (07930961101),
Water Management Team Leader – Mark Grassi (07739465399),
Bailiff – John Wood (07533944278),
Committee members – Martin Fowler (07855954283), John Pope (020 841 60599), Darrell Waldron (07900336536), Ian Wood (07736707384).
Web Editor – Sam Brown (c/o Fisherman's Cabin, (020 8248 8100).
Harrow School Security: 07766688597
Stay safe, stay healthy and enjoy your fishing !

Stocking
During this winter we stocked 250lb of bream (averaging 1lb).
Don't forget the Harrow season ends on 14th March
Hope to see you at the AGM on 26th March

New Fish Stock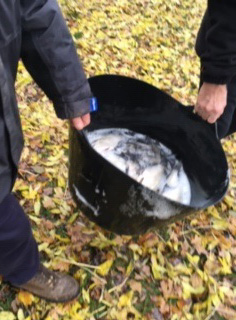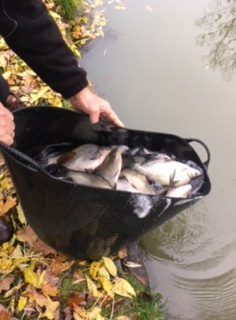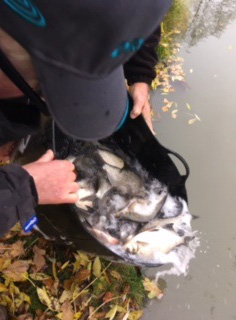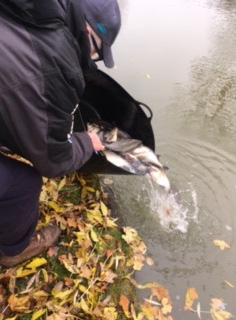 Saturday Family Day.

HSAC first family fishing match was a great success with 13 families fishing, the match was won with 21lb by young Morgan, Second was Carol 20Ib 5oz with young Willow third weighing in 17lb 8oz and catching the biggest fish of the day a 10lb common carp.

It was great to see lots of young anglers fishing with parents and grandparents. We also had the youngest angler of the day at 2 ½ years, catching a small roach.

Thanks to everybody who helped out and generously donated prizes.

We are looking forward to doing this again next year.